Courts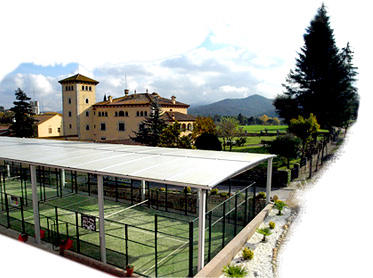 Our facilities have a total of 4 Paddle covered courts, made of glass walls and equipped with outdoor lighting.
Its location is strategic for enjoying in every moment the landscape and the amenities we offer you.
Courts number 1 and 2 are located in front of the Paddle bar, next to the Pitch and Putt driving range, and are provided with forest views.
The other ones, 3 and 4, are in the lateral part of the bar and are closed to one of the Pitch and Putt holes, forest, bar, and other courts views.
Because our company is close to "El Montseny", you can enjoy your favorite sport near the nature, in a quiet and inspirational environment.
Activities
From our beginnings in 2010, we have organized different kinds of activities as well as leagues and tournaments, always surrounded with the best company.
Thanks to our sponsors we have been able to offer to our winners and participants different kind of prizes to thanks them their participation and the effort they make while enjoying the sport.